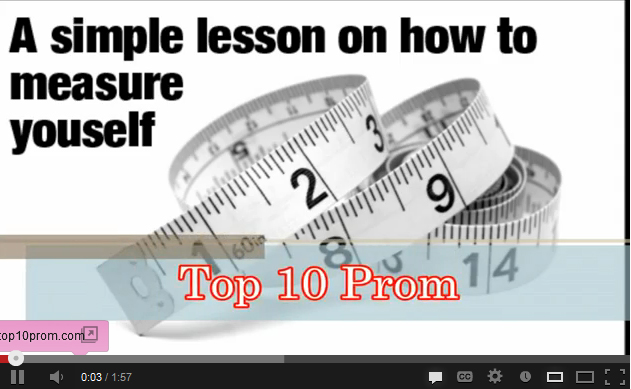 • Ok you've been to the local store, maybe even travelled out of town, but your perfect dress is online.  First, BE CAREFUL!  There are websites out there that are fakes! Nobody likes fakes!  Make sure the website you are on is legit.  You can find this out by going to the designer's official website to locate authorized websites to sell their products.  Also beware of those Chinese websites that look like they are selling the same dress for A LOT less.  It's not the same dress you saw in store or on that other website.  It could be made of different, cheap• looking material.  The beads and detail work may not be a nice or of a good quality.  You know that saying…"if it's too good to be true…it's a scam".
So the website you're buying from is cool, it's legit.  GREAT!  Make sure you get the right size!  Many websites have measuring charts that can help you figure out your size based on 3 key measurements;   Your Bust, Waist, and Hip measurement.  Here's how to correctly measure yourself:
1.    Make sure you have a regular measuring tape, not the one your dad uses to build things.
2.    Stand in the mirror to make sure you can see all around yourself or have a friend help you.
3.    It is best to take measurements with thin clothing on.  Make sure you don't have a bulky sweater or that Victoria Secret extra padded push up bra on.
4.    For your bust measurement bring the measuring tape around your upper back and across your breast. Make sure the tape is not tilted and that it goes straight around your upper body.
5.    For your waist measurement you bring the measuring tape around your middle at your belly button. NOT WHERE YOU WEAR YOUR PANTS!
6.    Lastly, for your hip measurement you will actually be measuring your butt.  You need to make sure you have nothing in your pockets.  Bring the measuring tape across your backside.
7.    After you measure yourself refer to the available charts to determine size.  Use your largest number to decide.  If you chose a size to fit your smallest number the dress won't fit that larger area.  You may need to still make alterations.  Keep that in mind.